Message from the president
The President

Kyoko

Ohno-Matsui

(Tokyo Medical and

Dental University)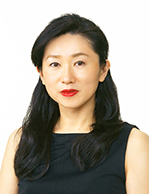 In recent years, the global population of people with myopia has continued to increase, causing significant social problems. In school health statistics conducted by the Ministry of Education, Science, and Culture, the frequency of elementary school students in Japan with uncorrected vision of under 0.3 (many are estimated to have myopia) has increased by approximately three times in the past 30 years.
The frequency of myopia is especially high in East Asia, reaching over 60% in 12-year old children in Singapore. As a result, the medical fees to treat myopia among teenagers in Singapore have increased to approximately $150 per person for treatments such as eye examinations and vision correction glasses, increasing the fears for significant medical and socioeconomic impact.
In addition, when the state of pathologic Myopia arises, retina and optic nerve are damaged, the vision is worsened even with correction, and can lead to blindness. In an epidemiologic study targeted towards residents of the city of Taijimi in Japan, the number of pathologic myopia-related macular degeneration was at a record high as the causative disease of blindness as defined by the WHO. As a result, the Japanese Association of Research in pathologic Myopia was established in 2008, and multiple studies have been conducted to help prevent blindness from pathologic myopia.Due to the sudden increase of the overall myopic population, countermeasures for progressive myopia will continue to be important issues in the future. It is important to promote the expansion of fundamental and clinical studies in all areas of myopia, and for Japan to continue leading the world in transmitting the results of the studies of near-sightedness and Pathologic Myopia.
Together with the help of all of our members, we hope to collaborate with the Japan Ophthalmological Society, Japan Ophthalmologists Association, and other related institutes to contribute to people and society. We greatly appreciate your understanding, cooperation, and guidance.